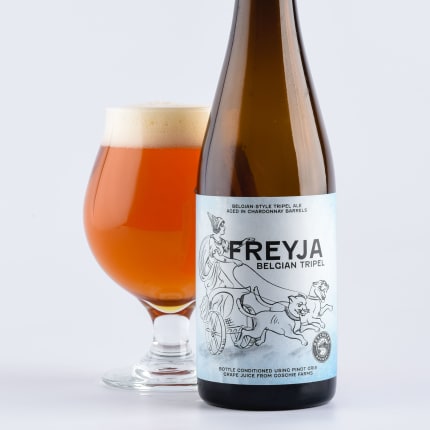 Reserve Series: Freyja
Deschutes Brewery
---

Find and rate beers like this on the Tavour app!
---
A Note on This Beer
Craft sippers all across the U.S. know about Oregon's legendary Deschutes Brewery thanks to their stacks of World Beer Cup and Best of Craft Beer medals. But even the most hardcore fans haven't had a sip of today's beer from the brewery's small-batch reserve series!
Freyja Belgian-style Tripel comes in such tiny batches, it's never even left the taproom!
That is, until now. It's as rare as Disney unlocking the vault, only way better because it's barrel-aged with a 9.4% ABV — and no cartoon animals will burst through the window when you sing out loud with joy!
Which is awesome, because each sip is definitely song-worthy.
Deschutes aged this brew in white wine barrels (a first for them!) and conditioned it on Pinot Gris grapes. Let each sip linger on the tongue, and you'll find yourself agreeing with Untappd's @Charles M.: "The wine grapes really accentuate the spicy yeast and sweet malt!"
Or with @Papa T., who says, "Apricots and honey. Nice full finish. Hope it stays on their reserve list!"
Of course, you don't have to go to Bend, Oregon to get this covet-worthy beer in your hand. With Tavour, you've got the keys to Deschutes' cellar!
Rated 4.07 on Untappd
Tavour strictly supports independent beer. Deschutes Brewery is certified independent by the Brewers Association
---
Reviews
4.1
3.0
Not bad not great
1.75
nothing to write home about, but not terrible.
4.25
Wonderful blend for a Belgian style, lots of floral notes and the abv % is not present when you take a sip. Very subtle hint of the barrel-aging is apparent. Would definitely buy this one again.
---